In your day-to-day life, you might not spend much time thinking about your pants — but the moment you hit the road for a trip, this humble garment takes on a more important role.
Travel pants play a big part in your comfort, whether you're walking through an airport or hiking a mountain in a distant country. When you're traveling in hot weather, the right pair of pants can help you stay cool and dry.
When you're traveling, you have a limited amount of space for clothing; that's why it's helpful to pick the right pants. A great pair of travel pants is lightweight and non-bulky, so it takes up less space in a suitcase.
It's also helpful to choose styles that don't wrinkle easily — that way, you'll still look fresh and pulled-together even after a long day in the heat.
8 Lightweight Pants for Hot Weather
As you're choosing pants for hot-weather travel, consider factors including your personal style and favorite activities.
Best Pants for Hot Weather for Men in 2023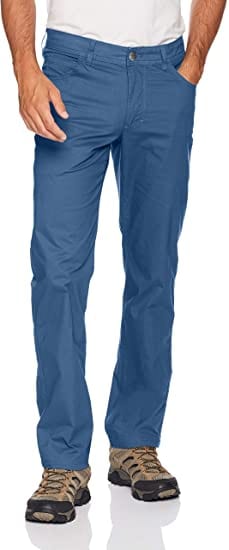 Blocks UVA and UVB rays
Stretchy and comfortable
Partial elastic waist for flexibility
Lightweight and exceptionally comfortable, the Rapid Rivers pant from Columbia is made for active endeavors.
The secret is the fabric — it's made from a blend of cotton and elastane, so it stretches generously and snaps back into place to prevent sagging and bagging. Plus, since the waistband is made partially of elastic, these pants fit a wide range of body types with complete comfort.
To keep you safe during hot-weather travel, these pants are made with Columbia's Omni-Shade technology. It keeps UVA and UVB rays away from your skin, reducing the risk of sun damage during long days of outdoor exploration.
We love the jeans-inspired design, which looks great in a variety of situations. Wear these pants with a technical T-shirt for a day of hiking, or slip on a sweater for an evening meal.
Two hand pockets give you room for small items, such as a phone, wallet, or keys.
Zip-off legs convert to shorts

Quick-drying

UPF 50+ protection
Do you like to hike or get active when you travel? These hiking pants from Jessie Kidden are a great option.
They're made from quick-drying fabric, so you can sweat or get wet with confidence — the material releases moisture quickly to prevent chafing or discomfort.
Since the fabric is lightweight, it helps you stay cool when the temperatures are high. With UPF 50+ protection, you can feel confident when moving around in direct sunlight.
Made with a classic cargo-pant style, these pants are loose-fitting and designed to provide a full range of motion for fishing, hiking, and biking. Traveling on an extremely hot day? The lower legs zip off, turning the pants into shorts.
This two-in-one design eliminates the need to travel with a separate pair of shorts. As you move through different activities, store your essentials in the roomy side pockets — they shut with a hook-and-loop closure to keep items in place.
Lightweight, breathable fabric

Quick-drying design

Convenient zip pockets
These TBMPOY hiking pants are designed to cover all of your needs when you're traveling.
The most important factor is the fabric — it's a unique blend of polyamide and Spandex, which is remarkably lightweight and comfortable.
It's also breathable and designed to dry quickly, so you always feel cool and dry even when you're sweating in elevated temperatures. Plus, since it's water-repellent, you don't need to worry about getting stuck in a rainstorm; the water will bead up and roll off in light precipitation.
We love the simple style, which features loose-fitting legs that keep you comfortable when you're flying, hiking, or pursuing any other activity. The elastic waist adjusts to fit your unique shape, and the included belt makes it easy to keep the pants in place during high-energy outings.
When you're traveling, it's important to carry your valuables safely. To achieve this, these pants come with zip-close pockets. They keep your phone and wallet secure, reducing the risk of loss or theft when you're on the go.
Waterproof fabric for lasting dryness

Deep pockets

Elastic waistband keeps you comfortable
Designed with a relaxed, athletic-inspired style, these unisex Coalatree Trailhead adventure pants are made for travelers on the go.
Each element of the pants is designed to accommodate a huge range of activities. The elastic waistband comes with a drawstring for a custom fit. At each cuff, a handy drawstring allows you to choose the hem height and fit.
Two deep side pockets provide plenty of room for supplies. With three neutral colors to select from, it's easy to find a pair to match your tops.
Adventure travelers will love the fabric. It's waterproof, so you can head outdoors with confidence; the stain-resistant surface ensures that you always look neat and clean — a great perk for backpackers and minimalist travelers.
Whether you're going to an outdoor music festival or a rock-climbing trip, these pants keep moisture away from your skin. Moisture-wicking, antimicrobial properties ensure that you feel and smell fresh, even on the hottest days.
10+ pockets
Ripstop polyester
Water-resistant
These pants have been designed with soldiers in mind, so you can rest assured that they will help you get the most out of your outdooring experience.
Those who have purchased them have reported them fitting comfortably. They are also breathable, ensuring that your legs will not get overly heated on hot summer days, provide an impressive range of motion and do not tear easily.
However, perhaps what makes these travel pants really stand out are its pockets. Not only are they plentiful, but they provide a number of uses as well. Included are multiple slant pockets, hook and loop pockets and everyday carry pockets. You could store your personal items, such as your phone, equipment and tactical pens in them.
Its water-resistant feature is also impressive as it has been reported by users to readily repel all types of stains, whether from liquids, such as coffee, or dirt as you make your way up a rock face or through otherwise challenging terrain.
Do note that you may need to get a size larger than you normally do for their fit to be perfect.
• Lightweight and breathable
• Quick-drying material
• Durable and abrasion-resistant
For stylish travelers, the men's Ferrosi pants from Outdoor Research are a must. They're designed with a narrow leg, so they look sleek and contemporary whether you're wearing a T-shirt or a button-up.
The Ferrosi pants are crafted with a nylon/spandex softshell material that's made with active travelers in mind; it's ultra-strong and resistant to abrasions.
Whether you're climbing over rocks or hiking through the underbrush on the way to a great fishing spot, these pants prevent rips and tears. The multi-way stretch and articulated knees enable you to move freely during any type of travel activity.
When it comes to safety and security, Ferrosi pants have your back. The UPF 50+ protection keeps you safe from harmful rays. A handy security pocket features a zip-top closure to keep a phone or wallet in place.
Traveling in an area with insects or thorns? Just adjust the drawcords on the cuffs to protect your ankles.
Zip-off legs for versatile wear

UPF 50 protection

Moisture-wicking material for comfort
The Silver Ridge pants have a big advantage for travelers: the legs zip off, turning the pants into shorts when the weather gets hot.
In terms of style, these pants are somewhere between traditional and modern; the classic fit is loose but not baggy, so it works for a wide variety of body shapes. Two side pockets are slim and designed to lie flat against the leg, keeping the convenient storage while reducing bulk on the sides of your thighs.
When it comes to comfort, the Silver Ridge pants shine. The Omni-Shade fabric protects your legs from the sun; at the same time, it wicks moisture away from your skin to lower body heat on hot days.
The pants are lightweight, so you'll feel comfortable even in the height of summer. With the included belt, finding the best fit is a breeze on any given day. We love the impressive range of available colors — they enable you to find the right match for your style and planned activities. Choose a neutral earth tone to blend in during hiking trips, or select a bolder shade for city travels.
90 percent polyester and 10% spandex
Zippered pockets: Two large security zippered pockets safely hold your 5.5″ cell phones, wallets, keys, etc.
Adjustable waistband with full elastic at waist.
Drawstring closure 4-way stretch material promotes flexibility and freedom of movement during sports.
We really like these pants because they are lightweight and loose fitting. These are great because they are not too tight, which is great when it gets hot. These pants are perfect for those who do not like to get burnt when walking around.
With quick-drying, lightweight, breathable, moisture-wicking and soft fabric that keeps you cool and comfortable, these pants are suitable for spring, summer and fall outdoor and sports activities like running, hiking, camping, hunting, fitness, cycling, fishing, climbing, traveling, walking, jogging or even for casual wear.
---
A comfortable, well-fitting pair of travel pants is one of the best things you can buy before you hit the road during the hot summer months.
When you choose the right pair for your needs and the weather, it's easier to stay focused on the most important part of any trip: fun. A comfortable, flexible pair of pants helps you feel fresh and gives you the freedom to take on a huge range of activities.
Great travel pants can also streamline the packing process — since most styles are wrinkle-resistant, they eliminate the need for ironing or dry-cleaning.
Plus, if you choose a pair that's moisture-wicking and quick-drying, you don't have to worry about getting too sweaty during an active day. The trick is to select the pair that matches your personal style and fits your frame; that way, you'll be happy to pull on the pants every time you travel.
94% Nylon, 6% Spandex
Button closure
Machine Wash
Stretch, lightweight, quick drying fabric for comfort and east of movement
Stretch fabric is quick drying, water resistant and UPF 50
Mesh lined pockets 1 side leg pocket with zip closure zip back pockets
The Unionbay Rainier Lightweight Comfort Travel Tech Chino Pants for men is a high quality, comfortable and practical choice for men looking for a versatile pair of pants. These pants are made from a blend of 94% nylon and 6% spandex, giving them a stretchy, lightweight feel that is perfect for traveling, hiking, or everyday wear.
One of the most notable features of these pants is their quick drying and water-repellent properties. The stretch fabric is designed to dry quickly. This means that you can wear these pants even when they are wet without worrying about being uncomfortable. Plus, the fabric has a UPF rating of 50, which provides excellent protection from the sun's harmful UV rays.
The Unionbay Men's Rainier Lightweight Comfort Travel Tech Chino Pants also feature several convenient pockets, 1 zippered side leg pocket, and zippered back pockets. The pockets are mesh-lined, which promotes air circulation and keeps your belongings safe.
The pants can be machine washed, which makes them easy to care for and maintain. It has a button closure and a classic chino style that goes well with a variety of outfits. The pants are available in several neutral colors, so you can easily combine them with other clothes.
Overall, the Unionbay Men's Rainier Lightweight Comfort Travel Tech Chino Pants are an excellent choice for men who value comfort, practicality, and style. These pants are well-made, durable, and tailored to the needs of men who are constantly on the go. Whether you are traveling, hiking, or just running errands, these pants will provide the comfort and convenience you need.