Early summer is the perfect time of year to travel in the United States. With warm weather, special summer pricing packages, and fewer crowds than later in the season, June is an especially good month to plan your next trip.
This article will share 15 of the best United States travel destinations for the month of June. Whether you are looking for a relaxing view of the ocean, an energizing stay in the city, or something in between, this list has something for everyone.
Suggested:
– Best Places To Visit in July 2022
– Best Places To Visit in August 2022
1. Yellowstone National Park for Most Beautiful U.S. Nature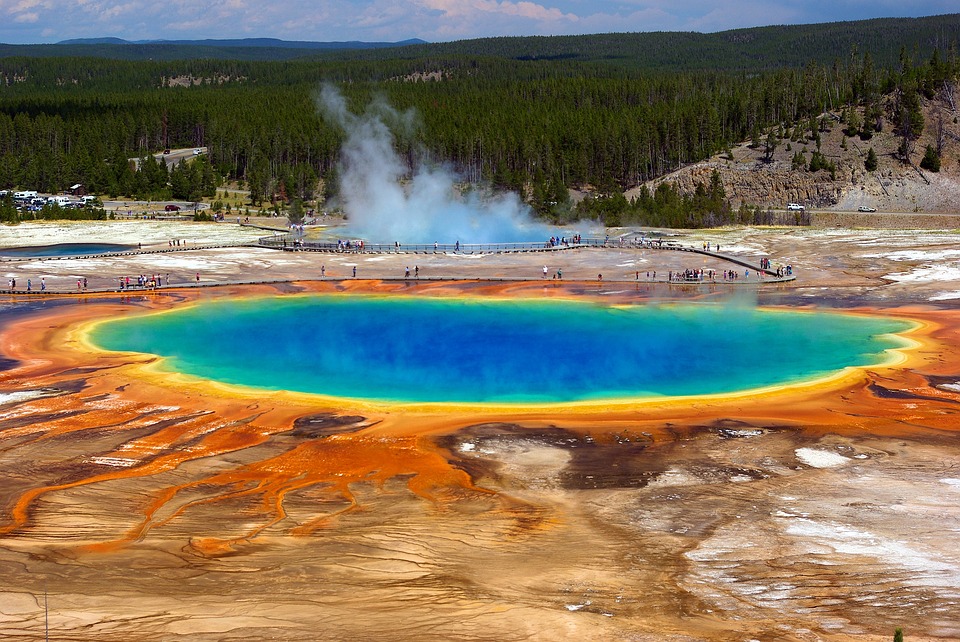 Yellowstone national park is frequently listed as one of the best parks in the country. With breathtaking views, peaceful lodging options, and many opportunities for outdoor recreation, this trip is perfect for the active or adventurous traveler. If you decide to travel in a group, Yellowstone has activities for everyone.
Hiking, kayaking, trail riding, and fishing are just a few of the amazing opportunities to connect with nature. Of course, the natural spectacles in the park are enough by themselves to make the trip worth your while. There are mountain ranges, rock formations, and plenty of wildlife to watch.
2. Cape Cod for Beautiful Sandy Beaches
Located in New England, Cape Cod is a small town with a lot to offer. From shopping centers to quiet beaches, the province will please kids and adults alike. June is an excellent time to make this trip. For much of the year, the weather is too cool to enjoy thoroughly. June in Cape Cod, however, is lovely.
History buffs will enjoy a trip to Cape Cod since the city is home to one of the earliest American colonies. Other popular attractions are on the coast. The shores are sprinkled with picturesque lighthouses and animal lovers will relish the opportunity to go whale watching.
3. Myrtle Beach for Perfect Beach Weather
For a warmer trip, travelers should consider visiting South Carolina's Myrtle Beach. The beach covers more than 60 miles, and the average temperature during June is 88° Fahrenheit. With weather like this, the coastal Atlantic ocean is warm enough to swim comfortably.
Myrtle Beach also has affordable lodging options, making it a popular destination for families. When visitors leave the beach, many enjoy dinner shows, the local aquarium, and other local attractions.
Of course, we would be remiss if we failed to mention the legendary golf courses in the area. These courses are often the sites of PGA and LPGA tournaments. Whether you are a new golfer or have been enjoying the sport for many years, do not miss out on the opportunity to play on Myrtle Beach's legendary courses.
Check out the post about best beaches in South Carolina
4. New Orleans for Foodies
New Orleans is located in the southernmost part of Louisiana. The city is a melting pot of cultures with plenty of diversity. Foodies will rejoice at the local cuisine which most prominently features seafood, comfort food, and bold Cajun flavors. The city also offers hundreds of concerts, festivals, and tours to captivate visitors of all ages and interests.
New Orleans has rich French, Spanish, and African American historical roots. Because of this, there are opportunities to expand your mind in museums and other attractions. The city is also known for its vibrant nightlife filled with unique bars and clubs.
5. Sitka for Alaskan Adventures
If you have been avoiding a trip to Alaska because of the sub-zero temperatures, this destination is for you. The average temperature in Sitka during June is around 55° Fahrenheit. The city is perfect for outdoor lovers and offers both land and water-based recreation.
Fishing, whale watching, boating, and hiking are all common activities in Sitka. Rustic cabins in the mountains, however, give visitors quite the spectacle to take in on their own. The quaint urban areas are home to delicious restaurants, museums, and shopping strips.
6. Cincinnati for Baseball and History
Although this location is often left out in conversations about travel, you will not want to miss out on Cincinnati. The town is known for its local eats, unique museums, and will enthrall urban explorers.
This northern Ohio metropolis is also home to many sports teams. In June, The Cincinnati Reds baseball team is an especially popular attraction.
Visitors would be remiss to neglect the Ohio River on their trips to Cincinnati. Take a stroll on a river trail, or sit down and relax on the serpentine wall to take in the natural beauty of the river. Or, if you are more adventurous, book a tour on a riverboat.
7. Denver for Great Music and Festivals
Denver, Colorado combines natural beauty with exciting city life to create a positive experience for all visitors. Many tourists flock to Denver during the colder months for ski trips and other winter-related activities. During the summer, however, the city is less crowded and more conducive to leisurely site seeing.
Visitors who enjoy music will be glad to know that hundreds of concerts and music festivals take place in Denver each summer. The legendary Red Rocks Amphitheater, for example, is a one-of-a-kind venue that attracts famous musicians and bands from across the world.
Local parks, gardens, and zoos also allow tourists the opportunity to get outside and enjoy the natural scenery. The city itself is safe, clean, and family-friendly.
8. Glacier National Park for Hiking
Nestled in the northwestern corner of the United States, Glacier National Park is the perfect summer getaway. Cabins, condos, and hotels with views of the surrounding mountain ranges are all available near the park. Hiking, biking, and rafting are common summer activities for visitors.
The late-summer months are the busiest times to visit, making June an optimal time for a trip. Because many parts of the park are frozen in the months leading up to June, though, be sure to check the local conditions before planning your itinerary.
9. Nashville for Country Music
Nashville, Tennessee: The home of country music. Between concerts, honky tonks, and street performers, visitors will be surrounded by some of the country's most talented singers and songwriters. Of course, music is not all that Nashville has to offer. The town is also famous for its hot chicken.
Be sure to visit Broadway for a one-of-a-kind party experience with multi-level bars and restaurants lining the street. For those who prefer music other than country, check out the summer Jazz Festival or catch a concert at the Schermerhorn Symphony Center.
10. Outer Banks for Island Life Experience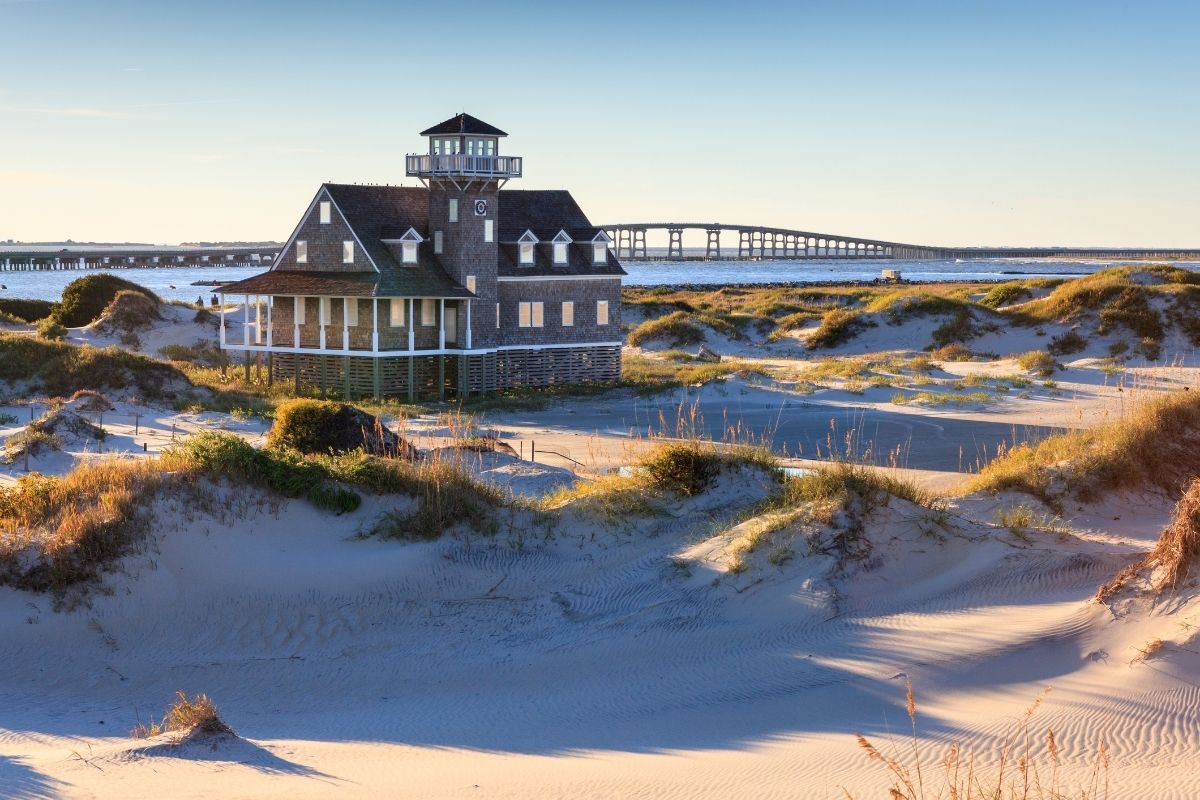 Your next getaway location could be nestled off the coast of North Carolina. The Outer Banks are a group of small islands along the coastline. One benefit of the Outer Banks is that visitors get the full island experience without having to travel hundreds of miles from the mainland.
Many visitors chose to take an RV or a camper to the Banks and enjoy cheap lodging that way. Fishing and boating are prominent activities, and the clean beaches provide hours of entertainment. With an average high of 83°, the island chains are comfortable and affordable during the month of June.
11. Sedona for Peaceful Desert Vibes
For travelers looking to avoid the beaches and busy cities, Sedona is an excellent choice. The central Arizona province is a desert town. It is known for its breathtaking rock formations, canyons, and lakes. Visitors will also enjoy learning about the rich Native American culture and history that surrounds Sedona.
There are plenty of museums, exhibits, and tours to enjoy. Aside from hiking, exploring, and other forms of sightseeing, visitors will want to bring a camera. Sedona has some of the most photographed natural structures in the United States.
Since it can get hot during June, visitors can cool off in the river by swimming or kayaking.
12. Gatlinburg for Hiking
Gatlinburg is located near the Great Smoky Mountains National Park. Hike, explore caves, and visit waterfalls to get the full experience. Open-air chair lifts and white water rafting opportunities also provide fun for groups. Many visitors chose to stay in a rustic mountain cabin during their stay.
The city itself, although it is of modest size, has attractions for tourists of all ages and interests. Gatlinburg's museums, for example, are some the most unique in the country. There is a Pinball museum, a Hollywood Star Cars museum, a Ripley's World Records museum, and more.
13. Maui for Best Hawaii Experience
If you enjoy warm sunshine, gorgeous beaches, and clear waters, then Maui in June is an excellent vacation choice. Visitors love snorkeling off the coast, exploring the state parks, or simply relaxing at resorts with a tasty Pina Colada.
Curious travelers should note that swimming in Maui is safer in June than it is in any other month. This is because there are less tropical storms during June, meaning more time around the water on your trip. For those who prefer to remain on solid ground, Maui's volcanoes, valleys, and villages provide endless opportunities for exploration.
14. Lake Tahoe for Winter Activities in Summer
Lake Tahoe is popular during the winter months because of the renowned ski slopes in the area. During the summer, and June in particular, crowds have died back. One valley, however, the Squaw Valley, keeps its slopes open for skiing even into the summer. This means that visitors who go in early summer can enjoy the best of Tahoe's summer and winter activities.
As the name indicates, the main attraction of Lake Tahoe is the lake itself. The water in the large body of water is some of the purest in the entire world. Travelers come from abroad to fish, swim, and engage in other boating activities.
The average high temperature in Lake Tahoe for June is 73°, with the average low being 44°.
15. San Diego for Best California Vibes
While there are many attractions worthy of tourist attention in the state of California, San Diego stands out from the rest. The beaches are one reason for this distinction. Many surfers love catching waves off the city's 70-plus miles of coastal beaches.
Children are sure to enjoy the San Diego zoo, which is one of the best in the world. The city is also remarkable, providing a safe and clean environment to enjoy a vacation. Enjoy California cuisine, authentic Mexican food, or seafood in bliss at the many local restaurants for a one-of-a-kind experience.
As you can see, there are many amazing opportunities for travel in the United States. From the east coast to the west coast and everything in between, the locations on this list make perfect getaways in the month of June.
16. Grand Teton National Park
Supporting a diverse range of fauna and breathtaking scenery, including the iconic rough mountain range that gives the park its name, lies Teton National Park, home to insanely beautiful snow-capped peaks, abundant wildlife, great hiking trails and stunning views.
From the 13,770-foot Grand Teton to the Jenny and Jackson lakes – which reflect the mountains in their depths – the Instagram-ops are endless.
The park, which traditionally attracts climbers and photographers, offers lots of activities for everyone during the summer season.
Around June, the Snake River attracts kayakers, rafters and those who simply want to take in nature.
17. Blue Ridge Parkway, North Carolina and Virginia
The Blue Ridge Parkway is America's most popular scenic road. The 469-mile road connects Shenandoah National Park (Virginia) and Great Smoky Mountains National Park (North Carolina).
It is also the most visited park in the entire U.S. National Park System, making it one of the best places to visit in the United States in June.
The Blue Ridge Parkway offers a variety of activities, including nearly 200 breathtakingly beautiful Blue Ridge Parkway overlooks with stunning views of the Blue Ridge Mountains.
The Blue Ridge Parkway is known for "its mesmerizing scenery lined with green forests, misty mountains, flowering meadows and blue-hued horizons."
18. New York City
Both tourists and residents consider fall and spring to be the best time to visit the Big Apple, as moderate temperatures can be expected from April to June and September to November.
In June, New York City hosts a number of exciting street festivals. Most of them honor specific cultures and ethnic groups, and they all include food and lots of music.
Get some Southern food and head to Madison Square to hear rock, blues and soul music.
An Irish fair is also held in June, with two stages of music and dance, as well as culinary delights and an Irish market.
Another fantastic alternative is camping in the heart of New York City!
Throughout the summer, the NYC Parks Department's Urban Park Rangers host free camping activities for families in the park – they provide the tents, so all you have to bring is your sleeping bag!
A nighttime walk through the park, as well as storytelling are all part of the adventure. Space is limited, so be sure to sign up as soon as possible.
19. Niagara Falls for Stunning Nature
Since Niagara Falls can be cool outside of summer, but June, when daytime temperatures are in the 70s, is a great month to visit.
Niagara Falls is the fastest flowing and most powerful waterfall in the world. About 700,000 gallons of water flow down Niagara Falls every second at about 100 miles per hour!
Niagara Falls is incredibly commercial, but it's definitely worth a visit, and a three-day trip sounds like the perfect amount of time.
The town does have a bit of a fair vibe, but nothing compares to the power of the falls and the sight of millions of gallons of water crashing down just a few feet from a regular road and sidewalk.
There are several golf courses in the area and a number of spas where you can pamper yourself.
20. Oregon Coast for Outdoor Fun
The Oregon Coast, with its small fishing villages, lush forests, and undeveloped beaches, is a fantastic place to visit in late spring and early summer. June is a great month to plan your road trip along the Oregon Coast, as the weather warms up and the season of summer festivals begins.
Astoria, the northernmost city on the Oregon Coast, is a picturesque place to explore, drink craft beers right on the coast and take a short hike. Even some of the filming locations from the 1980 cult film The Goonies, which played in this coastal town, can still be seen today.
Another place you should visit is Cannon Beach, which is known for the nearby Haystack Rock. Explore the tide pools on the beach during the day and stay for a sunset bonfire in the evening.
21. Black Hills, South Dakota for hiking
The gorgeous Black Hills region of South Dakota is a beautiful part of the United States to visit at any time of year, but June may be the best month of all.
Perfect weather conditions combined with fewer tourists than during peak season make June a great time to tackle the breathtaking hike to Black Elk Peak. From a historic fire lookout tower, you'll have spectacular views of four U.S. states.
Mt. Rushmore is perhaps South Dakota's best-known landmark, and the famous evening light show of the towering granite sculpture begins in late May or early June.
22. Santa Barbara, California – For Outdoor Activities
Santa Barbara, which is situated along the Central California Coast, is among the greatest American towns to visit in June because of the abundance of sunshine and comfortable temperatures.
Santa Barbara offers a variety of activities, whether you want to explore the area's history, hit the trails, or learn how to surf. This town has a strong colonial history and wonderful weather for outdoor activities.
In addition, the city houses the most magnificent courthouse in the United States, built in the Spanish Colonial Revival Style. In addition, the ancient Mission Santa Barbara and Villa Del La Guerra are wonderful architectural relics that show you how the Spanish colonists developed their domain along the coast.
After exploring the city, visit one of Santa Barbara's beaches or the famous Stearns Wharf, the oldest operating pier in California, from which you can view the sunset and the breathtaking landscapes of Santa Barbara.
23. Chicago, Illinois for a buzzing summer city break
The Windy City is a popular destination because it offers the ideal combination of historic buildings, delicious dining, stunning waterfronts and renowned museums.
The ideal time to visit Chicago is late spring or early summer, especially in May, June or September.
While you are in town, be sure to hang out at the Riverwalk, one of Chicago's best spots. Check out the iconic silver mirror bean for an Instagram-worthy photo in Millennium Park, or head to a rooftop bar for a breathtaking view of this amazing city. The area is full of bars, stores, restaurants and ideal people-watching spots.
24. Portland, Oregon For Great Craft Beer And Fantastic Food Carts
Words like inviting, energetic, relaxed and trendy are not enough to describe Portland's stunning environment. Every month and season in Portland has its charms, and Portland is home to some of the hottest attractions.
The best time to visit the city is between June and August. The City of Roses is in full bloom during the summer. The days are long, the weather is ideal with an average temperature in the mid-70s and pleasantly low humidity.
Visit the stunning and colorful International Rose Test Garden while you are in town to admire the breathtaking array of hues. If you enjoy the outdoors, float down the beautiful Willamette River while surrounded by lush vegetation, or look for activities nearby and try to attend a summer festival.
25. Cannon Beach, Oregon for Beach Activities
On the gorgeous Oregon Coast, you'll find towering cliffs, lush coastal forests, and a small village full of cottages at Cannon Beach. This is one of the best beaches in the United States for a summer vacation, as it has beautiful parks for hiking, great beaches, and a vibrant community.
There are a lot of great things to do in Cannon Beach. For example, walk along its namesake beach to see 235-foot Haystack Rock. At low tide, explore the tide pools, watch the puffin colony that is there at this time of year, or have a bonfire on the beach.
If you want to push yourself a little harder, Ecola Park in Cannon Beach offers some stunning hikes, including the 4.3-mile hike to Indian Beach. It winds through a mossy green forest. This trail leads to a beach with gorgeous rocks that has been featured in Twilight and The Goonies.