London is undoubtedly one of the most amazing cities in the world, attracting thousands of visitors every year. We're bringing you a hand-picked list of hostels in London that can boost your London experience!
For many travelers, backpacking through this awesomely cool international city is a rite of passage. It's also a superb way to keep your travel costs down. If you want to be 100% ready for your London trip, check out the ultimate London packing list!
However, there are nearly 200 registered hostels in London, so how do you know which one to choose to stay in? The solution is to do your research and find out the best hostels in the city for backpackers. Consider your needs and book the one that best suits those needs.
Check out also:
– Best Hostels In Amsterdam
– Best Hostels in Paris
Here is a look at 13 of the best hostels in London for backpackers. This will give you an idea of what is out there, and it will help you find the right accommodation based on your budget and needs.
Selina Camden
for solo travelers
for digital nomads
**SPECIAL 10% SELINA DISCOUNT** Use Our Coupon: "TRAVELING-SELINA" while Booking on Selina's Website to Get Exclusive Discount.
Book on Hostelworld Book on Booking.com from $67 / 8-dorm 4.6/5 Map
**Prices are shown for weekdays in High-season (August)
Selina is a community-focused hostel chain, popular among travelers of all kinds, including backpackers and digital nomads. No wonder you will now find one in London as well.
It opened in 2021 in the London underground music hub – the famous Camden Town – along with an on-site vegetarian and vegan eatery called Powerplant.
This accommodation with an attractive design features both private rooms and dorms, a fully-equipped communal kitchen, and a loft with a balcony. The front desk is open 24 hours and there is no curfew.
Take a yoga class and have nurturing breakfast. Then, head off to explore the surrounding sights. Within a walking distance, you will find the bustling Camden Market, the London ZOO, or Primrose Hill – a popular park with stunning views. At night, you can have a drink in one of the many Camden pubs, go for a gig or even an open mic.
No matter what your preferences are, Selina will surely not leave you disappointed.
St Christopher's Inn – Liverpool Street
Book on Hostelworld Book on Booking.com from $43 / 8-dorm 4.2/5 Map
**Prices are shown for weekdays in High-season (August)
Set near Shoreditch, one of the trendiest neighborhoods of London, St Christopher's Inn is a place to be if you're seeking a true London experience. It's where the traditional meets a more alternative scene. What's more, you'll be staying right in the heart of the City, surrounded by skyscrapers and the Gherkin.
The famous Brick Lane is only about 900 meters from the hostel. We recommend you visit it during the weekend – on Saturday and Sunday, there is a huge market with plenty of street food vendors. On the other hand, on a weekday, you can try one of the renowned curries or bagels. London Bridge and the Tower of London are also just a stone's throw away.
There are two tube stations very close to the accommodation – Liverpool Street and Moorgate. From there, you can easily get to other parts of the city, such as King's Cross or Oxford Circus.
The hostel itself also has plenty to offer. On the ground floor, there is a classic British pub, often frequented by local businessmen and partying travelers. They stream sports games nearly every night and offer unbeatable drink and meal deals. The dorms are pretty modern, and clean, and feature privacy curtains and lockers.
Wombat's Hostel (Best-Rated Hostel in London)
Book on Hostelworld Book on Booking.com from $31 / 8-dorm 4.4/5 Map
**Prices are shown for weekdays in High-season (August)
Located in Whitechapel, Wombat's hostel is extremely close to London's historic center. All the city's tourist spots are easily accessible from the hostel by public transport. With over 300,000 yearly satisfied customers, this hostel is the epitome of cleanliness. Modern rooms, huge common halls, a bar, free Wi-Fi, and other features are enticing.
Moreover, they provide a fully equipped kitchen for the guests to cook for themselves, and they serve an all-you-can-eat breakfast for moderate pricing. The hostel has rooms with 3-8 beds as well as private double/twin beds. Every room comes with an attached bathroom as well.
This hostel is one of the more luxurious hostels in the city, making it totally worth the extra money! The rates at Wombat's depend on the time of year, and they are higher on the weekends.
Hostel One Notting Hill
Book on Hostelworld Book on Booking.com from $24 / 8-dorm 4.4/5 Map
**Prices are shown for weekdays in High-season (August)
Hostel One is located in a 19th-century building located in the famous neighborhood of Notting Hill. The recently restored historic building now offers brand new bathrooms and a common area, definitely one of the best hostels in London.
Due to its location, Hostel One offers easy access to many tourist spots and amenities. Close by you will find the Portobello Market, Hyde Park, and Kensington Palace.
Hostel One prides itself on offering a very social atmosphere. Run by fellow backpackers, the staff understands the appeal of meeting new people. They host daytime activities as well as nightly drinking games and pub hopping. Furthermore, Hostel One provides a complimentary dinner every night for its guests.
The hostel offers many great amenities to make your stay as comfortable and convenient as possible. In addition to the free nightly dinner, Hostel One offers complimentary tourist info, maps, Wi-Fi, lockers, luggage storage, ready-made beds, tea, coffee, and more. If this wasn't enough, the hostel also offers services such as laundry, padlocks and towel rental for a small fee.
Astor Hyde Park
Book on Hostelworld Book on Booking.com from $28 / 10-dorm 4.2/5 Map
**Prices are shown for weekdays in High-season (August)
Located in the heart of London, Astor Hyde Park is a stately redbrick townhouse with a Victorian interior mixed with contemporary décor. The hostel offers clean and bright white dorm rooms that come with 4, 5, 6, 10 or 12 beds as well as the option for an en suite. Otherwise, every floor has shared bathrooms. The dorms are not only clean but also incredibly comfortable, ensuring great value for your money.
You can have a simple continental breakfast, including tea, coffee, toast with different spreads, cereal, fruit, biscuits, and squash for £1 – the profits go to charity.
One of the best things about Astor Hyde Park is its location. You get to stay right next to Hyde Park and a couple of amazing museums to explore when you do not feel up to traveling too far.
SoHostel (Affordable Hostel)
Book on Hostelworld Book on Booking.com from $28 / 18-dorm 4.1/5 Map
**Prices are shown for weekdays in High-season (August)
Located on Dean Street in the heart of Soho, SoHostel is a funky hostel for travelers over the age of 18. The public areas have funky bar stools and Fatboy bean bags for you to chill on. SoHostel also has a guest-only bar that is open till 1 am.
There are twin and double rooms available, as well as dorm rooms that sleep 3 to 18 people. The rooms and dorms are well furnished and come with extremely comfy mattresses to make sure you rest well after a day of exploring London's delights.
Apart from the usual hostel facilities, SoHostel has quirky additions to make it unique from many other hostels, including a "pamper room" that is complete with light bulb-framed mirrors and hair straighteners and hair dryers. Bonus additions include nearby laundry and washing facilities.
Safestay London Elephant & Castle
Book on Hostelworld Book on Booking.com from $29 / 8-dorm 3.9/5 Map
**Prices are shown for weekdays in High-season (August)
Housed in a Georgian building that was formerly the Labour Party headquarters, Safestay London Elephant & Castle is a great choice for backpackers as its zone-one location offers superb transport links to the city's tourist spots.
An early pioneer of the poshtel concept, you can expect to see a unique design and décor at the Safestay with splashes of pop art, antique mirrors on the walls, and striped carpets that will remind you of a Paul Smith print.
The dorm rooms at Safestay have space for 4, 6 and 8 people with a separate shower room and toilet. You also get your own lockable cage to store your gear – make sure to bring your own padlock.
The hostel offers 11 private rooms that are a little pricey but sleep up to 3 people and come with an en suite bathroom, television and tea and coffee facilities. The room rate includes a basic breakfast. There is also a basement bar where you can enjoy Pot Noodle and Budweiser.
Clink78 (Best Hostel in London for Solo Travelers)
Book on Hostelworld Book on Booking.com from $16 / 14-dorm 3.8/5 Map
**Prices are shown for weekdays in High-season (August)
Clink78 is a hostel with a great history. It is an old courthouse-turned-hostel, situated in King's Cross. From 4-14 beds in a dorm/room and private rooms that sleep 1 or 2 people, this hostel has a ton to offer. The rooms are spacious, clean and safe. Some rooms have built-in bathroom facilities, and there are shared-bathroom facilities on each floor.
Along with other facilities, like free Wi-Fi, kitchen, laundry, breakfast, etc., the hostel offers a free walking tour of London where you can mingle with other travelers and learn about the city with a free local guide.
Hang out at the hostel's ClashBar in the basement for drinks and socialization every evening! Reap all these benefits in the city of London by staying at Clink78.
Generator London
located in the best party area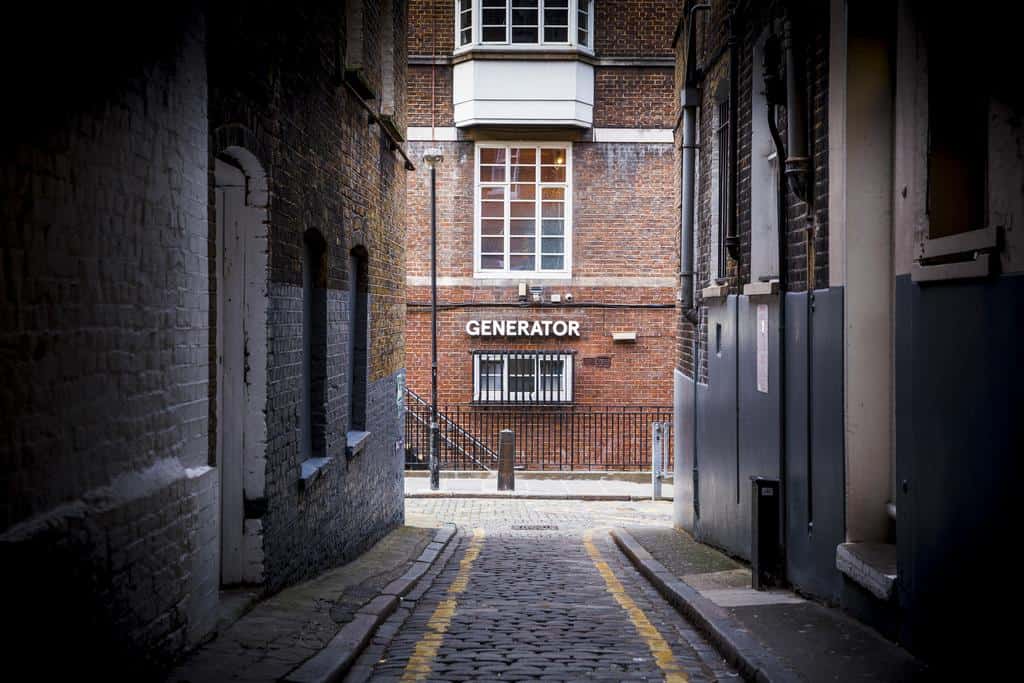 Book on Hostelworld Book on Booking.com from $22 / 13-dorm 3.7/5 Map
**Prices are shown for weekdays in High-season (August)
The Generator London is conveniently located in Russell Square in the historic West End neighborhood. This gives you easy access to all the hot spots in the city by way of the tube so you'll never run out of things to see or do. Guests have commented on how easy and fast it is to get to King's Cross Station and buses from the hostel.
To unwind from your day, Generator offers a bar and chill-out areas where you can enjoy a drink and socialize with other guests. Additionally, the hostel offers game rooms and nightly events and entertainment to keep your time in the hostel just as exciting as your time exploring the city.
Generator will provide you with all the amenities you will need for your stay. You can choose between dorms, quads, private rooms or female-only dorms. All guests are provided with Wi-Fi, dining facilities, laundry room and access to the travel shop. The travel shop is where you can buy tickets for tours and events around the city as help as get help planning your itinerary.
Saint James Backpackers Hostel
Book on Hostelworld Book on Booking.com from $40 / 8-dorm 3.7/5 Map
**Prices are shown for weekdays in High-season (August)
Located on Earls Court, Saint James Backpackers Hostel is a family-run hostel that has been accommodating guests for over 45 years. The original Victorian building has a stylish townhouse vibe with alternative art decorating its walls.
The hostel has good-sized bedrooms, providing guests with enough room for personal space. You also get your own locker when you stay at Saint James Backpackers Hostel.
The staff members at Saint James Backpackers Hostel are very welcoming and friendly, making sure your stay is a pleasant one. Another perk of this hostel is it's just a 5-minute walk from Earls Court Station. Additionally, you get a good-quality breakfast that includes toast, boiled eggs, and cereal.
Barmy Badger Backpackers
Book on Hostelworld Book on Booking.com from $- / -dorm 4.5/5 Map
**Prices are shown for weekdays in High-season (August)
One of London's highest-rated hostels, Barmy Badger Backpackers is another excellent choice when you are looking for comfortable accommodation that offers all the amenities you need. This is one of the most popular hostels in the city for backpackers because it offers free Wi-Fi and free breakfast.
It also comes with a full kitchen that you can use whenever you need to. The staff has excellent ratings from guests on their Hostelworld and Booking.com profiles.
Barmy Badger Backpackers also gets high ratings for the comfortable beds it provides. Plus, every guest in a dorm gets their own laptop safe! If you are looking for a hostel with close proximity to public transport, this is the one to pick. It is located close to a subway station, so you can be in the center of London in just about 10 minutes.
Restup London
Book on Hostelworld Book on Booking.com from $- / -dorm 3.1/5 Map
**Prices are shown for weekdays in High-season (August)
Restup London is located in Central London, with unique, pre-WWI original exterior. What's more impressive is they have totally modernized the interior with bright colors and comfortable seating in their TV room and common halls. The hostel is in close proximity to major tourist attractions, like the London Bridge and Buckingham Palace.
There's free Wi-Fi available along with laundry facilities, and there's even a steam room for you to relax in. It also has a bus stop right outside and a variety of cafés nearby. There are dorms with 4-30 beds available along with private twin bedrooms.
Some of these rooms have attached bathrooms as well. With decent breakfasts and dinners for its guests, cheap rates, multi-lingual staff, and their ultra-clean rooms, Restup London is a crowd pleaser and a favorite among travelers.
Palmers Lodge Swiss Cottage
TEMPORARILY CLOSED
Located in Swiss Cottage, Palmers Lodge offers a Victorian England feel that is conveniently located near the Swiss Cottage train station giving you quick access to all that London has to offer. About a 12-minute train ride away is Bond Street which brings you to an easy spot to explore Soho and the theaters of the West End.
If you are looking to stay in for the day, Palmers Lodge has a pool table and board games so you can enjoy a more laid back day while still meeting new people. For a quieter time, Palmers Lodge also has a lounge with a book exchange. The hostel also has its own pub offering food as well as a BBQ on the outdoor terrace for a more lively evening.
Guests have praised Palmers Lodge for their friendly staff and great building. Comfy beds with curtains and great amenities are always talked about and have prompted many to extend their stay.
FAQs about hostels in London
What's the best hostel in London for solo travelers?
Clink78 is the perfect hostel in London for solo travelers. Set in an old courthouse at King's Cross, it's just a 10-minute walk from the train station. It features stylish rooms, both dorms and privates, multiple communal areas, and its own bar to socialize. Also, the staff organizes free walking city tours where you can mingle with fellow guests.
What's the best party hostel in London?
Generator London is the best option for party people. It's conveniently located in Russel Square, not far from Soho and Camden Town, where you can find a myriad of bars, pubs, cafes, restaurants, and clubs. And not only that. The hostel features its own bar, which stays open until 2 am!
How much is a hostel in London?
London is one of the most expensive cities in Europe, and its hostels are rather pricey alike. Yet, they're the best option for those traveling on a budget. An average night in a dorm in a hostel in London is around USD$ 25. While private rooms in hostels usually range between USD$ 60 and USD$ 100.
Are hostels in London safe?
Yes, hostels in London are very safe. Most of them are set in centrally located and populated areas with 24-hour reception or security, CCTV, safety boxes, or lockers. To feel extra safe, girls might consider female-only dorms.
Final Word
These are eleven of the top hostels in London for solo travelers, backpackers, couples or digital nomads. You can check out a number of others. Be sure to choose one that is located in an area you desire and offers the amenities and facilities you need during your stay in the city.
The hostels mentioned above provide backpackers with everything they need to have a comfortable stay without having to spend a fortune. If you are looking for affordable accommodation on your backpacking trip to London, forget about booking a hotel room. Save your money and have loads more fun by choosing to stay in one of the city's most popular hostels for backpackers
---
Author's Bio: Claire worked in property finance for a number of years and now enjoys helping people to find holiday homes that they can relax in or that make a good investment for the future. She understands that buying a property abroad can be nerve-wracking and wants to share tips and best practice to make that process run smoothly. The multi-lingual team at Morzine Prestige are on-hand to support you further.
— pin it —